AWMS Water Solutions, LLC.
One American Way
Warren, Ohio 44484
www.awmsllc.com
AWMS Water Solutions, LLC.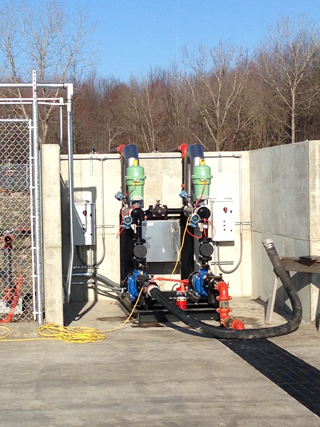 Thank you for your interest in our salt water injection well. On July 19, 2013, AWMS Water Solutions, LLC. ("AWMS"), a wholly owned subsidiary of Avalon Holdings Corporation, received two permits from the Ohio Department of Natural Resources (ODNR) to install two salt water brine injection wells (the "Wells") on an industrial property located off of State Route 169 just outside Niles, Ohio in Weathersfield Township. 1732 State Rt. 169 Weathersfield, Ohio 44446.
AWMS believes that the site is in an ideal location for this type of facility. It is in an old industrial area and is capable of accepting multiple trucks per day, with a minimal impact on the surrounding communities. The site is also served with rail lines which will allow brine deliveries to also be accepted by rail.
Although both Wells are permitted on the same piece of property, one well (AWMS #1) will deposit the brine in the Newburg Zone/Lockport formations and the second well (AWMS #2) will deposit the brine in the geologic formation from Knox Dolomite to the Mt. Simon Sandstone formations.
Due to the proximity of the Wells to each other, both Wells have been installed in order to take advantage of sharing equipment and the synergies of operating two Wells. The Wells will use the same infrastructure and operate as one business. At capacity, a combined total estimated average injection rate of approximately 6,000 to 8,000 barrels per day is expected.
If it is determined in the future that the addition of other related facilities or operations would enhance the economic performance of the State Route 169 site, additional services may be added. These facilities and operations could potentially include dedicated rail siding and pumping facilities, high-solids separations facilities, fresh water sales, water recycling, or semi-solid and liquid solidification.
It is our intent to become the dominant player in the brine disposal business in the Utica and Marcellus Shale play. We believe that business conditions warrant many such opportunities and we are actively exploring the possibility of acquiring other permitted salt water injection facilities.